Next class of Sports Business MBA tips off in Ba...
Next class of Sports Business MBA tips off in Barcelona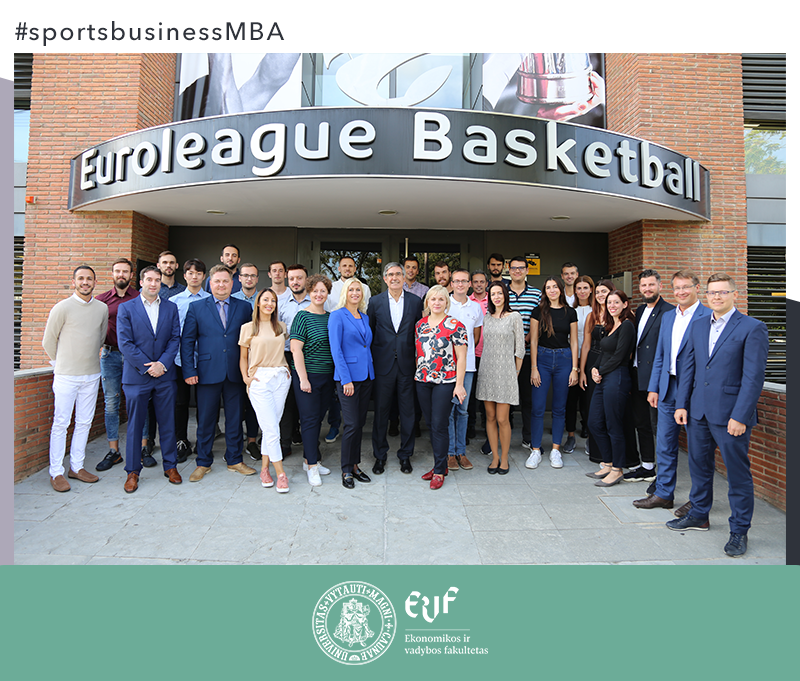 The 2019-21 class of the Sports Business MBA by EB Institute, delivered in collaboration with Vytautas Magnus University, began their studies last week with the first in-person session at Euroleague Basketball headquarters in Barcelona, Spain. Twenty-two students from 12 different countries started their 16-month journey by participating in the tip-off meeting.
Rita Bendaraviciene, Dean of the Faculty of Economics and Management at Vytautas Magnus University, welcomed the students in the opening session. The students were then introduced to the program structure, grading system and timetable and were trained on the e-learning platform. They were also introduced to the six online modules by the respective module leaders and received a detailed explanation about the requirements for their term paper.
Aside from the academic introduction, students had the opportunity to ask questions in a roundtable discussion with Jordi Bertomeu, Euroleague Basketball President and CEO, and to participate in team-building activities and solve several case studies in groups, which were given by the 12 Euroleague Basketball executives who delivered the presentations. Among them were Roser Queralto, Chief Business Officer, who spoke about event strategy; Eduard J. Scott, Chief Operations Officer, who gave a presentation about basketball operations; Jose Luis Rosa-Medina, Senior Director, Corporate Partnerships & Licensing, who talked about stakeholders in sports; Luca Scafati, Director of Business Operations, who introduced BOCS to the students; and Abi Martin, Director of Corporate Social Responsibility and Development Projects, who addressed the importance and growth of the One Team Project to the Euroleague Basketball community.
"Having worked with the Euroleague Basketball organization before as a participant in the league, the Sports Business MBA studies allow an inside look at the other side of the fence," said Rokas Mickevicius, Director of Marketing & Communication for AS Monaco Basket. "In other words, it introduces and gives knowledge not only about the principles and standards this organization implements in its work, but also it gives a wider understanding of what a modern sports organization is and how it should be operated in order to reach success on and off the field."
Maria Kourtali, sponsorship manager of Onside added, "It was a unique experience that offered us a generic scope of the modules and allowed us to have a deeper insight into Euroleague Basketball."
"I was pleasantly surprised by the entire organization from EuroLeague Basketball and the University," said Lutz Heck, Business Account manager at FC Bayern Basketball. "I just felt welcome and it was super easy to get in touch with the other students and professors because all of them were friendly and open. It was clear that all of us want to make progress with this MBA. The first session showed me that my decision to do the MBA was absolutely right."
"I think I will not be very original saying that it was a great experience for me and all of us," Gediminas Navickas, Team Manager of Zalgiris Kaunas, added. "It was amazing to hear the stories about how the league was created and developed during these years, becoming an example for basketball clubs and organizations. I was impressed by how open the representatives were during the session. I am looking forward to starting the studies. I can't wait for the students to come to Kaunas for the second session and to visit Zalgirio Arena. They will see how many things Euroleague Basketball taught us."
Students will now interact with the professors of Vytautas Magnus University, guest lecturers and industry experts over the next 15 weeks to complete three online modules and prepare a scientific-research-applied project. They will then travel to the city of Kaunas, Lithuania, for the second in-person session, where they will defend their project in front of the Term Paper Defense Committee and spend two full days visiting Zalgiris Kaunas and Zalgirio Arena, learning from the club and arena management.