Master
Area of Studies: 
Social Sciences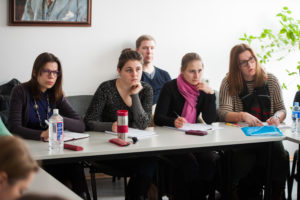 Mode of Studies: Full-time studies
Length of Programme: 2 academic years (120 ECTS)
Master in International Economics
The programme looks for overall balance of following attributes:
• academic accomplishment,
• professional experience and career progression,
• leadership potential,
• international exposure,
• interpersonal skills and personality development.
Graduates of the programme will possess the necessary competencies for assessing and formulating international economic policies, conducting economic analysis, employing appropriate methods and techniques for prediction and implementation of economic strategies in companies, agencies, governmental institutions and other organizations at national and international levels.
Please find the Brochure there.
The aim of the study  programme Finance is to train qualified specialists in finance– Masters in Finance, who have assimilated modern theories and methods in financial management, have systematic approach to macroeconomic processes and financial management at micro level, are able to analyze and to evaluate critically the processes on-going in the financial system and in business structures, to keep abreast of scientific and practical innovations in the finance field and to apply them in the professional activities in global cross-cultural environment..
Master in Marketing and International Commerce
The aim of the programme is to prepare Marketing and international commerce specialists of high qualification who, having mastered the most recent marketing theories and methods, are able to analyse tendencies and changes in the market independently, follow and evaluate scientific innovations, as well as apply the knowledge for the development of organization marketing management.
Masters in Marketing degree can help students develop and update the advanced knowledge, skills and strategic and industry awareness they need to take that next step towards a future marketing career.
Application, admission procedure